In this digital world, everyone wants to gain success in every sector. The business sector is very competitive. If anyone wants to do well in their career and keep 1st position in a business, he needs to know all sides of the business and up to date information of the business world. Business Magazines is a store of extra knowledge. When you read a magazine which contribute the initiative base content then you can increase your idea. Smart thinking is also important to do well in business.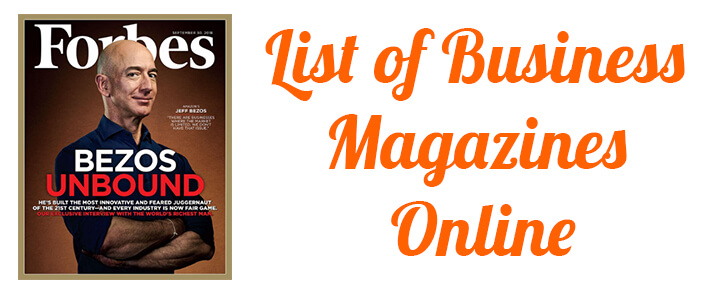 About Business Magazines
Business magazines are publications that focus on covering the latest news, trends, and insights in the world of business. These magazines are often targeted towards professionals, entrepreneurs, and investors who are interested in staying up-to-date on industry developments and gaining insights into the inner workings of successful businesses.
One of the primary benefits of business magazines is that they provide readers with a wealth of information in a concise and accessible format. Many business magazines feature articles that cover a wide range of topics, including finance, marketing, management, and leadership, among others. These articles are typically written by experts in their respective fields, making them a valuable source of information for anyone looking to improve their knowledge and skills in business.
In addition to providing in-depth coverage of business news and trends, business magazines often feature interviews with industry leaders and profiles of successful businesses. These features can be particularly inspiring for entrepreneurs and business owners who are looking for ideas and inspiration to help them grow their own businesses.
Another benefit of business magazines is that they can be a great source of networking opportunities. Many magazines host events, conferences, and other gatherings that bring together business leaders, investors, and other professionals. These events provide an opportunity for readers to connect with others in their industry, learn from experts, and gain valuable insights that can help them succeed in their careers.
Overall, business magazines are an essential resource for anyone who is serious about succeeding in the world of business. Whether you are an entrepreneur, investor, or business professional, subscribing to a quality business magazine can provide you with the insights, knowledge, and inspiration you need to take your career to the next level.
Everyone wants to get an easy way to know all information in this era. Online is a very easy way to get all types of information. The magazine is well-known among educated people at the present time.
Read Also:
Business Magazines In Online
Business magazines is very popular besides daily life & fashion magazines. The smartest businessman's first choice is a business magazine. In the magazine a businessman can get any type of business activity, news around the world. Here I will show some best business magazines lists which can be read online.
1. Forbes – Forbes is a well-known international business magazine in Asia. It established 103 years ago which is an American magazine. The owner of this magazine is Integrated Whale Media Investments and the Forbes family. Usually, this magazine published eight times a year. Its articles are informative which is very helpful for new & professional businessmen. It covers investing, finance, marketing, industry, technology, politics, science, and many more things about the business. It has two headquarters which are located in Jersey City and New Jersey. Forbes publishes its magazine within 27 countries and also publish regions worldwide. 
2. Wired – At the present time we can't think of a single day without science and technology. Wired magazine is the best choice for technology lovers. It features all the things of technology and how tech can be related to other subjects, business, lifestyle, thought of leaders. Also, we can get the details of the biggest tech companies from the world. It's a monthly magazine which is published since 1993. San Francisco, California is the headquarter of this magazine. 
3. Money (Best for Finance) – If anyone wants to budget, save,  and invest then Money is the best monthly magazine for them. The website of this magazine is markable by more than 10 million different visitors every month from April 2020. In the finance world, Money Magazine is the best for a business owner or employees. 
4. Fortune – Fortune was debuted by Henry Luce in 1929. This is an American multinational business magazine. Thai businessman Chatchaval Jiaravanon is the owner of Fortune Magazine. This magazine publishes ranked lists, a ranking of companies by revenue, including the Fortune 500, articles on business news, profile of industry leaders, and many more things. It is also popular for its annual "Fortune Investor Guide". 
5. The Economist – The Economist is an international digitally published magazine. This one is a weekly newspaper which is printed in magazine format. The owner of this company is The Economist Group based in London, England. The magazine covers science & technology, international business, current affairs, finance topics, various economic information from other countries, business news, etc. Whose like to read weekly magazine then The Economist is the best choice for them. 
6. Bloomberg Businessweek – Bloomberg Businessweek is a weekly magazine in America. Previously this magazine is known as BusinessWeek. Since 1929 September the magazine published in New York City. The magazine published different topics 50 times a year. The magazine provides necessary business news, the best list of MBA programs, news on the current market, technology, and career professionals. 
7. Entrepreneur – Entrepreneur is an American magazine that is established in 1977. The headquarter of this magazine is Irvine, California. The magazine includes entrepreneurship, business, commerce-related news, small business management, technology, entertaining stories that are related to business, and advice on a new business. Who wants to start up a new business or want to grow a business then Entrepreneur is the best magazine for them. Print and online both are famous in the business marketplace. 
8. Fast Company – Fast Company is an American monthly business magazine. The magazine first published in November 1995. It publishes eight times a year. Trends in business, technology, articles on creative people in business, advice to start a new business, the design are the main focus topic of the magazine.  
9. Inc. (Best for Startups) – Inc. debuted in 1979 and based in New York City. The magazine is well known as an American business media property. It publishes six times a year, also daily articles and videos are included. Who wants to start up a business then this is the best magazine for them. The articles of this magazine are successful companies, speaking skills, profiles of reputed businessmen, improvement of entrepreneurs, virtual events, and many more things. 
10. Consumer Reports – Consumer Reports, previously Consumer Union, is a nonprofit consumer organization. It is an American magazine founded in 1936. The people who like to read products review before buying so this is a suitable magazine for them. The magazine is best for unbiased products review, investigative journalism, consumer-oriented research, consumer advocacy, and public education. Its analysis and testing of the products without taking any advertising. So the reviews of any products of this magazine anyone can accept it blindly. 
11. Adweek – Adweek is an advertising trade publication in America. The magazine established in 1979. It publishes global advertising, new campaigns, creativity, accounts in review, technology, including cable television, branding, the other side of the business. The main competitor of this magazine is Advertising Age.
12. TechCrunch – TechCrunch is an online magazine in America. It established in June 2005. The magazine is published in three languages are English, Japanese and Chinese. On this site, anyone can easily make a profile for their business and share products review. Seeing this profile or product review, the business owner or investors will be interested in it. The biggest companies in the world like Tesla, Apple, Linkedln, Netflix.
This post provides you best Business Magazine Online. You can read them and subscribe them for full access. If you have more magazine name then let me know for include the list.
More Magazine Lists: bloomberg businessweek, business today, entrepreneur magazine, businessworld, fortune 100 best companies to work for, fortune 50 companies, harvard busines, dalal street investment journal, business today magazine, harvard business review magazine, forbes top 100 companies, best business magazines.
FAQs
Q: What is a business magazine?
A: A business magazine is a publication that focuses on news and information related to the business world, including topics such as finance, management, marketing, and entrepreneurship.
Q: What types of articles are typically found in an international business magazine?
A: Business magazines typically contain articles on a variety of topics, including news about companies and industries, interviews with business leaders, analysis of market trends, tips for small business owners, and advice for career development.
Q: Who reads small business magazines?
A: Business magazines are typically read by professionals in the business world, including executives, managers, entrepreneurs, investors, and business students.
Q: What are some of the benefits of reading a free business magazine?
A: Reading a business magazine can provide readers with valuable insights into the world of business, including current events, trends, and best practices. It can also provide readers with inspiration for their own careers or businesses, as well as opportunities to network with other professionals.
Q: What are some top business magazines in the world?
A: Some popular business magazines include Forbes, Fortune, Bloomberg Businessweek, Inc. Magazine, and Harvard Business Review.
Q: How can I subscribe to a business magazines uk?
A: You can typically subscribe to a business magazine online, either directly through the magazine's website or through a third-party subscription service. Many business magazines also offer print subscriptions, which can be ordered through their website or by phone.
Q: Are business magazines only available in print?
A: No, many business magazines are available in digital format as well, which can be read on a computer, tablet, or smartphone.
Q: How often are business magazines published?
A: Business magazines are typically published on a monthly or biweekly basis, although some may be published weekly or quarterly.
Q: Can I contribute an article to a business magazines uk?
A: Many business magazines accept submissions from freelance writers and industry experts. Check the magazine's website or contact the editor for more information on their submission process.