Khulna Newspapers expressed based on it's surrounded area. In this post, I will share with you Khulna Online Newspapers. Most of them are online newspapers and written by Bangla phonetic.
Khulna is one of the beautiful division of Bangladesh and it beside the river and ocean. It has ten popular districts. All of them are print daily newspaper regularly. Now I'm sharing all kind of newspapers link of them.
Most of the people are living outside of Bangladesh they want to read divisional newspaper like Khulna. The journalist from Bangladesh and abroad willingly find this keyword to make some unique and definite news.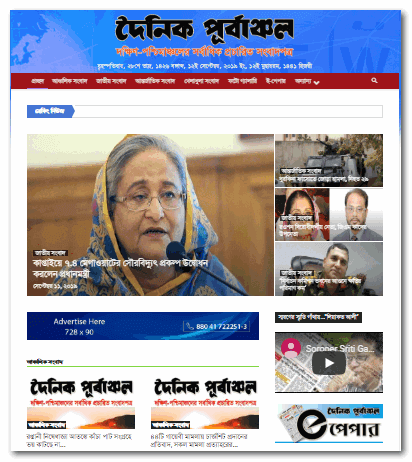 List Of Khulna Newspapers(Khulna News)

Purbanchal is a popular daily printed newspaper in Khulna. It's printed from Dhaka Purana Polton. It's the most widely circulated newspaper in the southwest. Also, it has an online app reading newspaper from an android device.

Khunlanchal is a daily newspaper in Khulna District. It has an office in zero points of Khulna Sodor. A popular name in the people of Khulna district.

Khulna News is the first online news portal of Khulna. It's published recent and daily news of khula Bagerhat. International and national news are released also.

The daily Gramer Kagoj(গ্রামের কাগজ) is a  most popular and daily newspaper in Bangladesh circulated from Jessore. It has a popular Bangla online news portal they provide the latest news about various categories for 24 7 days. It was the weekly newspaper first. In 2001 it converted daily printed newspaper.

Patradoot is a news site from Satkhira. It circulated news based on sports, news, national, international, and specially Satkhira news.
Another newspaper in Shatkhira. This is an online newspaper site of Satkhira. Also has an android app in google play store for reading Satkhira News online.
Meherpur is a Bangla leading online newspaper from Meherpur Mujibnagor. The main office of Meherpur News is Hotel Bazar Meherpur.

Most popular online newspaper in Magura. This is only one news site in Magura people are known. Cover news from Magura district and city.
Khulna Newspapers Online
Here you read some online newspaper of Khulna Division.
These are the most readable and popular newspapers and news sites.
Read Also
Bangla TV Channel and Online Magazine.