There are many national and international newspapers in Bangladesh. Some of them are the most popular and some of them are popular! the daily newspaper has a print version for reading every morning at the dining table with a cup of tea. But all of them are not able to produce an online media version called ePaper. But some media produce e-Paper services. People read them online and treat them as a Bangladesh ePaper Service like Bangla Magazine.
In this post, I will share with all of you all kinds of Bangladesh Newspaper Online version called e-newspaper bd. So, let's visit the links for Bangla Newspaper Online!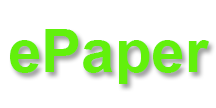 What Is ePaper BD & How Can You Read Them
ePaper – e(Electronic) Paper(Paper or Newspaper): ePaper or Electronic Newspaper is a daily newspaper online version! There are so many newspapers in a country. All newspapers are not provided online version copies for their readers. When you are Bangladeshi but live abroad then you need to read an ePaper for knowing your country's update. Only in this way can help you to read Bangla Newspapers Via Online.
Even a Bangla ePaper can help you to keep the important news to yourself by print. Print version newspapers can allow you to save every page in JPEG format and give access to print any kind of page of it!
So, let's see the most popular Bangle eNewspaper for daily reading.
Bangladeshi ePapers List (Bangla)
eProthom Alo is the most popular Bangla ePaper from Bangladesh. This paper was free to read the previous time but it's premium! Yes, if you wanna read Prothom Alo Online Bangla Newspapers. First, you need to SignUp and get a paid membership. Then you will read this daily Bangla paper by login in with your ID and Pass. It is the online version of Prothom Alo Bangla Newspaper's daily printed version.
Daily Ittefaq is a national newspaper of Bangladesh. e Daily Ittefaq is an online version of the Daily Ittefaq Bangla Newspaper. This paper is another popular newspaper in Bangladesh. Although it is popular like ProthomAlo. It is not paid and totally free to read.
Juganto is ad oldest Bangla Newspaper in Bangladesh. It also has an online version ePaper called e Jugantor. This paper allows you to read Daily Jugantor as an electronic medium. You are free to read this paper from anywhere in the world without a single penny. With the link access, you can read the e-Jugantor paper.
Daily Start is the first English Version newspaper in Bangladesh. e Daily Star is an online version of Daily Start. You can compare it with New York Times! (Bangladesh VS the US). This paper's slogan is Leading English Daily among Bangladesh Newspapers.
Naya Diganta is not much popular as Prothom Alo and Daily Star but it is one of the highest readable newspapers in Bangladesh. e Naya Diganta is an online version of Daily Naya Diganta. You can read this paper via the link inserted.
Samakal is a national Bangla newspaper. This newspaper took place in the list of all Bangla newspapers. e Samakal is the digital media of daily samakal. People read this paper both of way online and on printed paper. This paper is much popular among Bangladeshi People.
eAmardesh
Amardesh was the well-known Bangla Newspaper in Bangladesh. The editor Mahmudur Rahman has Shut Down this Newspaper for a certain time. The reason is a political issue. e Amardesh was the online version of it.
Janakantha ePaper is one of the oldest and most daily Bangla print papers in Bangladesh. You can read this paper by the name of e Janakantha. The owner of Janakantha decided and published e Janakantha for foreign Bangladeshi people. Cause they are not able to receive a hard print copy every day from Bangladesh!
e Amader Shomoy is one of the biggest Bangladesh ePaper. Amader Shomoy is a spontaneous newspaper in Bangladesh but the ePaper of Amader Somoy makes it more nearby to people for reading.
Dainik Azadi is the print version of e Dainik Azadi. This Bangla paper is listed in Bangladesh ePaper also. People like to read the online version of the paper. They can read this paper from the link of e Dainik Azadi.
List of All Bangla ePaper (Read Daily Newspaper Online)
1. eKaler Kantho – eKalerkantho or Kalerkantho ePaper is the best ePaper of Bangladesh. This paper is the part of Kalerkantho Bangla Newspaper.
2. eBangladesh Pratidin – eBangladeshProtidin is the largest and most popular newspaper in Bangladesh. bd pratidin paper's editor is Nizam and publisher name Moynal Hossain Chowdhury.
3. eDaily Start Paper – ePaper The Daily Star is the print version online. The daily start provides to readers eDaily Star for comfortable use and reading. This Bangla ePaper makes news about politics, technology, business, world, sports, entertainment, lifestyle, and crime news.
4. eDhaka Tribune – ePaper Dhaka Tribune provides you all kinds of updates through the topic of lifestyle, culture, sports, games, harvest opinions, and op-eds from Bangladesh.
5. eDaily Sun – eDaily Sun authority deserves the reputation is they are the Best ePaper in Bangladesh. This is an English language ePaper in BD.
6. eJaijaidin – eJaijaidin is a commercial popular Bangla newspaper in Bangladesh. This paper published national and international news regularly.
7. ePaper The Financial Express ePaper – Financial express is the known English ePaper in Bangladesh that covers the Bangladeshi news like the daily start English Paper.
8. e Sokaler Khobor – eSokaler Khobor is a Bangla ePaper that focused on daily Bangla news updates and political issues. Even this ePaper make some social work review about Bangladeshi district people.
9. eBonikbarta – eBonikbarta is a commercial news site in BD. This paper is a print version of Bonikbarta BD News.
10. eManobkantha – eManobkantha is a popular print version of daily Manobkantha Bangla Paper. This site provides or allows you to download or print any page of daily Manobkantha.
11. eAlokito Bangladesh – eAlokito Bangladesh is a light newspaper in Bangladesh. This paper is a renewable newspaper actually. It publishes kind of news like other daily newspapers.
12. eDialy Bortoman – eDaily Bortoman is a Bangla print paper of Dialy Bortoman Bangala Paper. Editor and Publisher are Mijanur Rahman, co-editor Najmul Haque Sarkar.
13. eHazarika Pratidin – Hajarika Pratidin is an Online news portal and leading Bangla Daily News Paper.
14. eGramer Kagoj – eGramerKagoj is the largest newspaper in Bangladesh. This is an online portal and print version newspaper in Bangladesh.
15. eSuprobhat – eSuprobhat is the daily Bangla ePaper of Suprobhat Newspaper. They publish news about team news, sports, news, column news.
16. eKaratoa – eDaily Karatoa is one of the common Bangla online newspapers from Bangladesh. This Bangla ePaper publishes a Bangla Magazine every Friday of a month.
17. eGonokantho – eGonokantho is an ePaper of a daily newspaper in BD. This paper has an English and Bangla version paper for reading. Also has an ePaper for online readers.
18. eNew Nation – eNewNation is a daily English new Nationa Newspapers Online Print Version online.
19. eSangbad Konika – The Daily Sangbad Konika provides eSongbad Konika. This is the most read Bangladeshi Bangla News Paper.
20. eVorer Pata – eVorerPata is a print version of Daily Vorer Pata Bangladeshi Bangla Newspaper. This is one of the national papers in Bangladesh.
21. Manabzamin – Mzamin is the oldest daily Bangla newspaper in Bangladesh. You can find or read it daily with an online newspaper portal called eManabzamin or a Hard copy of the Manabzamin newspaper. People also called it Manobjomin.
Bangladesh ePaper (BD Online Newspaper)
e Bonikbarta(Site is not alive)
They are the best ePaper or Online Newspaper In Bangladesh. Like eProthomalo, eIttefaq, ejugantor, etc. You can always read Bangladesh Bangla ePapers from these links.
Check more Bangladesh Updates like Bangladesh Banks List, Bangladesh Flag History, Bangladesh All TV Channel Live.