Daily Jugantor is a leading newspaper in Bangladesh. It called Dainik Jugantor in Bangladesh. Jugantor is a daily Bangla newspaper which printed newspaper every morning. The newspaper printed and published by Jamuna Printing and Publishing Ltd. Jamuna Media Ltd is the owner of this national newspaper and started its journey since 1999.
Editor name of daily Jugantor called Saiful Alam. It founded in 2000, the first of February. In every single day, 300000 copy newspaper is printed for sale.
Daily Jugantor Bangla Newspaper

You can read here Daily Jugantor Bangla Newspaper which covers news on  National, International, Live Sports, Politics, All Bangladesh, IT World, Education, Entertainment, and especially it covers Breading News.
This newspaper is similar to Daily Prothom Alo, Kaler Kantho, Ittefar Newspaper. All of them are national and popular newspapers in Bangladesh.
It is one of the oldest newspapers in the press release community. The world-famous journalists research this paper to recover historical news archives in BD.
Like other newspapers, Jugantor Authority wants to increase readers gradually of this newspaper in different ways. According to digital markets, Android App can increase more readers in a short time with their smartphone. Though that reason they making an android app in Google Play Store. You can download and install it on your android devices for reading this newspaper.
e Jugantor Online Newspaper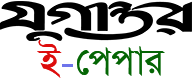 Jugantor e-paper is an online version of the daily newspaper. You can read here the same news which publishes every morning with print paper. ePaper allows you to read the newspaper online and you can download any kind of page online, even you can save important news from this paper.
You can find the second edition of this newspaper on its official website every day. End of the point I must say Dainik Jugantor has no English version still.