Chittagong Newspapers called ctg Newspaper as a short name. Chittagong is the largest division of Bangladesh. There are 11 districts are included in this division. Today here in this post I will share with you a list of selected and popular newspapers in Chittagong and nearby districts like Cox Bazar, Rangamati, Bandarban, etc.
Chittagong is a port city, through that reason it has always updated with online news media. You can learn here from the newspapers, Industrial development news, import-export news, national, local, and international news.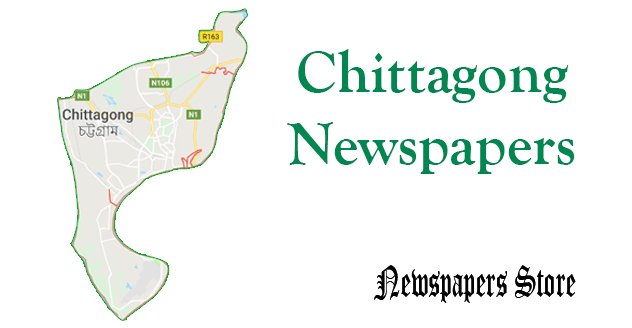 List Of Chittagong Newspapers
Let's visit the Newspapers in Chittagong, Parbaya Chattagram, Rangamali, and Cox's Bazar. All of the newspapers are based on online media or printed.

Azadi is a popular and oldest newspaper in Chittagong. It publishes news based on online media. Also, it has a print copy called daily Azadi.
Dainik Purbokone is a leading newspaper in Chittagong. This is a printed newspaper in Chittagong also. People can read it online and on hard paper.

Suprobhat is a Leading Newspaper in Bangladesh. It was published in Chittagong city. It's regional newspapers also.

Daily Purbodesh is a Chattagram's newspaper and provides some category-based news like Business, Web News, Today Feature, Country, Today Newspapers.

CTG Times is a local newspaper from Chittagong. It's a news portal-based newspaper in Chittagong city. People can read it online.

Parbatta News is a Daily Newspapers circulated daily basis. The First National Media On CHT & Coxbazar Region

Cox Bazar News is a local newspaper circulated from Cox Bazar Kolatoli. It covers all kinds of local area news and national news updates.

CHT Times 24 is an online newspaper. It covers Rangamati, Khagrachori, Parbatta Bandarban news based on hills crime, sports, entertainment, national, and others.

Teknafl News publishes online news based on unique Catagory like Coxbazar, National, International, Rohinga, Sports, Teknaf Local, COxbazar Local, Travel, Science, and others.

Chakaria is a daily newspaper in Chittagong and Coxbazar district. It cover national, political, Bangladesh Newspapers, sports, and literature.

Pahar24 is an uncommon and unique newspaper that published parbatta districts news. It cover paharer songbad, rangamati news, bandarban updates, khagrachori, alokito pahar, paharer rajniti, paharer orthoniti, health, IT features, parbatta konnna, and more about pahar news.
Raozan News is an online base news portal from Chittagong. This site provides news from a different categories.
Online Newspapers In Chittagong
Let's see some online-based newspapers in parbatta Chittagong and nearby districts.
These are the best and popular newspapers in Chittagong. You can see also more about Bangladesh Online media like Magazine, epaper, Radio, TV Channel, Flag, Map, Insurance, Bank, and more on this website.