Chittagong Newspapers called ctg Newspaper as a short name. Chittagong is the largest division of Bangladesh. There are 11 districts are included in this division. Today here in this post I will share with you a list of selected and popular newspapers in Chittagong and nearby districts like Cox Bazar, Rangamati, Bandarban, etc.
Chittagong is a port city, through that reason it has always updated with online news media. You can learn here from the newspapers, Industrial development news, import-export news, national, local, and international news.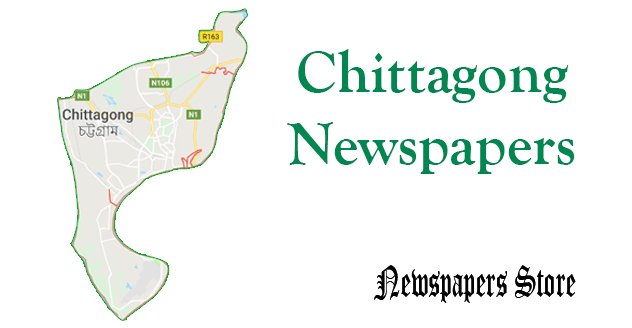 About Chittagong Newspapers
Chittagong, the second-largest city in Bangladesh, has a vibrant and active newspaper industry. Several newspapers are published from Chittagong on a daily, weekly, or monthly basis, covering a range of topics such as local news, national news, sports, entertainment, politics, and more. These newspapers play a vital role in informing the people of Chittagong about the latest happenings in their city, country, and around the world.
One of the most popular newspapers in Chittagong is the Daily Azadi. Founded in 1968, the newspaper is known for its coverage of local news, business, politics, and sports. It is published in both Bengali and English, and has a wide readership in Chittagong and surrounding areas. The newspaper has a strong online presence as well, with its website providing daily news updates, articles, and opinion pieces.
Another popular newspaper in Chittagong is the Daily Purbokone. Founded in 1999, it is one of the most widely circulated newspapers in the region, with a focus on local news and events. The newspaper also covers national and international news, sports, and entertainment. In addition to its print edition, Purbokone has a popular online news portal, which is updated regularly with breaking news, analysis, and opinion pieces.
The Daily Star Chittagong is another prominent newspaper in the city. It is a local edition of the widely circulated English-language newspaper, The Daily Star, which is published from Dhaka. The Daily Star Chittagong provides news, analysis, and opinion on local and national issues, as well as international news and events. It is published both in print and online, and has a significant readership in Chittagong.
Other newspapers published in Chittagong include the Daily Karnaphuli, Daily Cox's Bazar News, and the Daily Purbanchal. These newspapers cover a wide range of topics, from local news and events to national and international news, sports, and entertainment.
Overall, the newspapers published in Chittagong play a critical role in informing the people of the city about the latest news and events. With their print and online editions, these newspapers have a broad readership and provide a diverse range of news and views to the people of Chittagong.
List Of Chittagong Newspapers
Let's visit the Newspapers in Chittagong, Parbaya Chattagram, Rangamali, and Cox's Bazar. All of the newspapers are based on online media or printed.

Azadi is a popular and oldest newspaper in Chittagong. It publishes news based on online media. Also, it has a print copy called daily Azadi.
Dainik Purbokone is a leading newspaper in Chittagong. This is a printed newspaper in Chittagong also. People can read it online and on hard paper.

Suprobhat is a Leading Newspaper in Bangladesh. It was published in Chittagong city. It's regional newspapers also.

Daily Purbodesh is a Chattagram's newspaper and provides some category-based news like Business, Web News, Today Feature, Country, Today Newspapers.

CTG Times is a local newspaper from Chittagong. It's a news portal-based newspaper in Chittagong city. People can read it online.

Parbatta News is a Daily Newspapers circulated daily basis. The First National Media On CHT & Coxbazar Region

Cox Bazar News is a local newspaper circulated from Cox Bazar Kolatoli. It covers all kinds of local area news and national news updates.

CHT Times 24 is an online newspaper. It covers Rangamati, Khagrachori, Parbatta Bandarban news based on hills crime, sports, entertainment, national, and others.

Teknafl News publishes online news based on unique Catagory like Coxbazar, National, International, Rohinga, Sports, Teknaf Local, COxbazar Local, Travel, Science, and others.

Chakaria is a daily newspaper in Chittagong and Coxbazar district. It cover national, political, Bangladesh Newspapers, sports, and literature.

Pahar24 is an uncommon and unique newspaper that published parbatta districts news. It cover paharer songbad, rangamati news, bandarban updates, khagrachori, alokito pahar, paharer rajniti, paharer orthoniti, health, IT features, parbatta konnna, and more about pahar news.
Raozan News is an online base news portal from Chittagong. This site provides news from a different categories.
Online Newspapers In Chittagong
Let's see some online-based newspapers in parbatta Chittagong and nearby districts.
These are the best and popular newspapers in Chittagong. You can see also more about Bangladesh Online media like Magazine, epaper, Radio, TV Channel, Flag, Map, Insurance, Bank, and more on this website.
FAQs
Q: What are some popular newspapers in Chittagong?
A: Some of the popular newspapers in Chittagong include Daily Azadi, Daily Purbokone, Daily Suprobhat Bangladesh, and Daily Karnaphuli.
Q: Where can I find Chittagong newspapers online?
A: Most of the Chittagong newspapers have online versions that can be accessed through their respective websites. Additionally, some online news portals like bdnews24.com and Prothom Alo also cover news from Chittagong.
Q: What type of news can I expect to find in Chittagong newspapers?
A: Chittagong newspapers cover a wide range of topics including local news, national news, international news, business news, sports news, entertainment news, and editorial/opinion pieces.
Q: How often are Chittagong newspapers published?
A: Chittagong newspapers are typically published daily, although some may have weekend editions as well.
Q: Are Chittagong newspapers available in English?
A: While most Chittagong newspapers are published in Bengali, some have English-language sections or editions, such as Daily Star Chittagong Edition.
Q: Can I submit a news story to Chittagong newspapers?
A: Yes, most Chittagong newspapers have a section for submitting news stories or press releases. You can find the contact information for each newspaper on their respective websites.
Q: How can I subscribe to Chittagong newspapers?
A: You can typically subscribe to Chittagong newspapers by contacting their circulation department or by filling out a subscription form on their website.
Q: Are Chittagong newspapers available in print form?
A: Yes, Chittagong newspapers are available in print form and can be purchased at newsstands or delivered to your home through a subscription.